ESG investing is becoming more popular and most stockbrokers now offer a service that caters towards the ever-growing number of investors that want to go down this route. Of course, this should be welcomed. After all, most people want to make a positive contribution in making the world a better place. As the name suggests, it goes further than just the environmental and ethical impact. However, while many stockbrokers are keen to jump on the ESG bandwagon, often they do not talk about the potential pitfalls of investing in this new arena. It seems that everyone is happy to talk about the virtues of ESG investing without talking about the downsides – most of the industry seems to be advertising as opposed to advising when it comes to ESG investing.
The first point up for discussion is performance, as while ESG investing is relatively new, ethical investing isn't. To illustrate this point more clearly, we have created an ethical exclusion portfolio and compared it to several different performance indicators.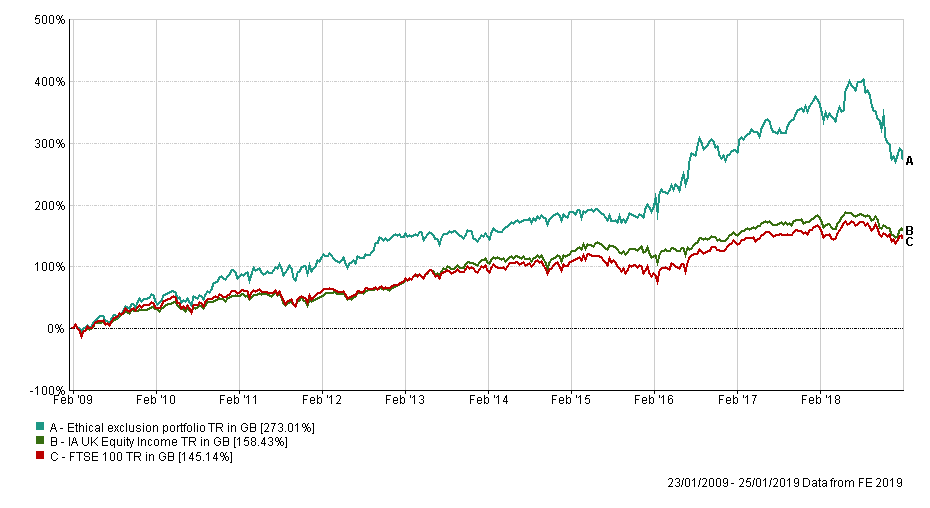 The ethical exclusion portfolio is comprised of FTSE 100 stocks that wouldn't be found in any ethical portfolio. Sectors that we have included are: tobacco, mining, oil and gas, alcohol, gambling and armaments. As you will see from performance over ten years, the ethical exclusion portfolio has returned 273% while the FTSE 100 has only returned 145%. It is worth pointing out that as all the companies in the ethical exclusion portfolio are also in the FTSE 100, part of the performance of the FTSE 100 will be down to companies that are also in the ethical exclusion portfolio.  
We have also included the IA UK Equity Income sector. The reason for its inclusion is because it charts the performance of UK fund managers, and it's the benchmark that any UK Equity Income fund manager needs to beat. As the chosen stocks are in the FTSE 100 they would sit in the UK Equity Income sector.
It should also be noted that we compared several of the top performing ethical funds to the performance of the ethical exclusion portfolio. None of the ethical funds managed to outperform the ethical exclusion portfolio over ten years.
Other hurdles within the sphere of ethical investing is the subjective nature of ethics, as this will vary from client to client, so often a one size fits all approach doesn't work. A perfect example of this is by looking at tobacco, specifically the supply chain. Most ethical portfolios do exclude tobacco; however, most will include supermarkets which are the largest distributors of cigarettes. It seems slightly hypocritical that in some instances the focus is just on the manufacturer and not the distributor. Of course, tobacco is not the sole revenue generator for supermarkets, and there will be some ESG providers that are will happily exclude supermarkets for clients, but often the supply chain isn't always considered when it probably should be. We had the same difficulty in selecting the companies from the FTSE 100 for the ethical exclusion portfolio. We left out pharmaceutical companies, although we know some investors would have issues with the animal testing that these companies undertake. A leading plastics and packaging manufacturer was also not included, despite the growing concern that single use plastic has on the environment.
Some investors may wish to take this a step further and only invest in companies in which their business model is wholly ethical – e.g. a portfolio made up of renewable energy. However, the problem with this is you end up with a very concentrated portfolio which lacks diversification. While it might meet the investor's ethical appetite, it may not meet their risk appetite.
Of course, ethical investing isn't just about performance, it is about making a positive impact on our planet and society. However, we don't always believe change is brought about by solely avoiding and ignoring companies. Sometimes the best way to achieve change is from within. ESG investing completely ignores the change that can be brought about by activist investing.
Take 'Follow this' - a shareholder group that invests in Royal Dutch Shell. It is campaigning to set hard targets for cutting carbon emissions. Through their dialogue with other institutional investors, Shell announced its ambition to halve its carbon footprint by 2050. It has also gone on to link executive pay to short-term emissions targets. Therefore, in this case activist investors have not only succeeded in helping try and tackle climate change, but they have also, and perhaps inadvertently, helped to tackle excessive board pay. The latter certainly also ticks the box of good social and corporate governance. If you visit the 'Follow this' website then it makes it clear that their belief is that it is up to shareholders to change the world. We would tend to agree, simply ignoring a problem doesn't solve it.
Continuing with this theme, we know that companies might behave well at home, but will happily exploit the poor in other areas of the world. Often this is in the manufacturing of products that we all enjoy. ESG investing will actively avoid these companies, but if these companies did not employ the world's poorest then what little money they do have would be taken away, and we don't see how this improves the situation. Surely it is better to ensure that the company continues to employ these people, but under improved conditions so they are no longer exploited? Companies must listen to their shareholders, and so often the best way to ensure change is achieved is by attending the annual general meetings (AGMs) and voting on resolutions that will enhance the company's environmental impact as well as their good social and corporate governance. Investors that are not sure how to attend AGMs or vote should contact their stockbroker.
Another question that needs to be asked is whether that company truly means what it is doing or if it is just virtue signalling? Over the last few years mental health has quite rightly been identified as a major health issue. According to the Office for National Statistics, suicide is the most common cause of death for men aged 20-49 years in England and Wales [1]. This is staggering and undoubtedly needs to change. However, what standards are ESG investment providers holding the companies in which they invest to account? Most companies have introduced a mental health awareness week (which is enough for most ESG providers), but has the company introduced measures that actually combat mental health? There is no point in introducing a mental health awareness week if employees are still going home stressed and answering work emails late into the night. There needs to be visible policy changes within the company that ensures they are actually combatting mental health and are not simply observing it. Unfortunately, often companies only want to be seen doing the right thing, as opposed to actually doing the right thing.
From reading this it might seem that we are against ESG investing which isn't the case, however, we do believe that the industry needs to do a better job at explaining ESG investing to investors. Currently it seems that it is a bandwagon that everybody wants to jump on with little consideration for the implications and whether the client fully understands the product that is being so readily promoted. It also calls into question whether ESG providers are practising what they are preaching (selling).
Source: https://www.ons.gov.uk [1] - Accessed 28/01/19
Sterling rise leads FTSE 100 lower
Global equity markets endured mixed fortunes last week but the FTSE 100 succumbed to a loss of -2.3%.  The UK large-cap index faced the headwind of a continued rise in the value of Sterling, given the majority of its underlying constituents derive the lion's share of their revenue from overseas.
The Pound closed the week up +1.8% against the Euro and +2.2% higher versus the US Dollar. This came amid speculation that most of parliament was either leaning towards an extension of Article 50 or eager to avoid a hard Brexit. Even the enigmatic and influential ERG group leader Jacob Rees-Mogg suggested that with some backstop amendments, he would be willing to hold his nose and vote for it in order to avoid 'no-deal'.
European equity markets fared better; The French CAC 40 gained +1.0% whilst Germany's DAX 30 ended +0.7% higher over the course of the week. This came despite the German economic affairs ministry substantially lowering its 2019 gross domestic product forecast to just 1%, down from the 1.8% forecast as recently as October. The latest Purchasing Managers' Index in the Eurozone continued to slow, with Germany's manufacturing measure dipping below 50 for the first time since 2013. The European Central Bank held rates steady at last week's policy meeting but pointed to the balance of risks now tilted to the downside.
Elsewhere, US markets closed the week broadly flat; the S&P 500 down just -0.2% during a holiday-shortened week.  Japan's Nikkei 225 secured a weekly gain of +0.5%.
China's economy grew at an annualised rate of 6.4% in the final quarter of 2018, down from the 6.5% reported in the third quarter.  For the full calendar year, 2018 growth was stated as 6.6%, 20 basis points slower than a downwardly revised 2017.  China has been slowing now for a number of decades as it rotates towards a service-led economy.
Data sources – FE Analytics 2019 and Forex Factory.
The Week Ahead

In the Eurozone, the preliminary reading of Q4'18 GDP is due on Thursday with growth forecast to have remained unchanged from the benign +0.2% quarterly pace delivered back in Q3. Unemployment and inflation figures are also released later in the week. In Asia, two variations of China's manufacturing PMI are released whilst there are a few significant data releases in Japan including retail sales, industrial production and unemployment. Domestically, it's a relatively quiet week in terms of numbers with the Bank of England's monthly consumer borrowing statistics and January's manufacturing PMI the only figures of note. Politically, the House of Commons has another full day of Brexit debates tomorrow with a number of amendments to the Prime Ministers exit deal being put forward.