One major point of note is that this outbreak is unfolding just before Chinese New Year which will take place on the 25th of January. As China has developed economically, the ability of its citizens to travel around the country by air to visit family has dramatically increased. The chart below (figure 1) shows the increase in internal flights over the last 9 years, this could potentially create a major problem as the number of internal airline passengers is now significantly higher than it was in 2003 during the SARS outbreak and it has been confirmed that this coronavirus is being transmitted human to human.
Whenever events like these begin to occur it is always useful to look at historical precedent in order to gain context and a view on what the impact could be. The below charts, using data garnered after the 2003 SARS crisis can provide this.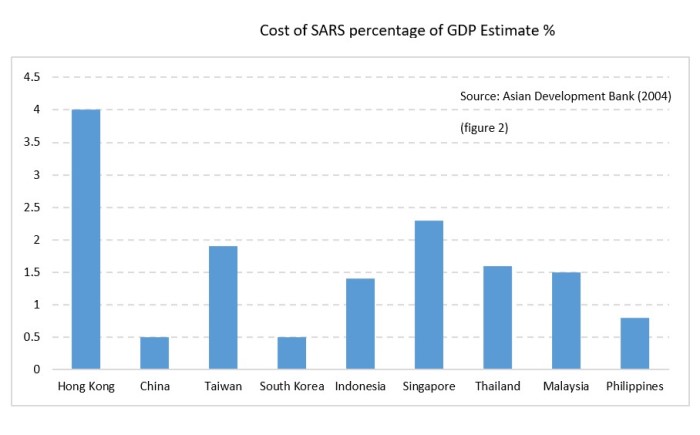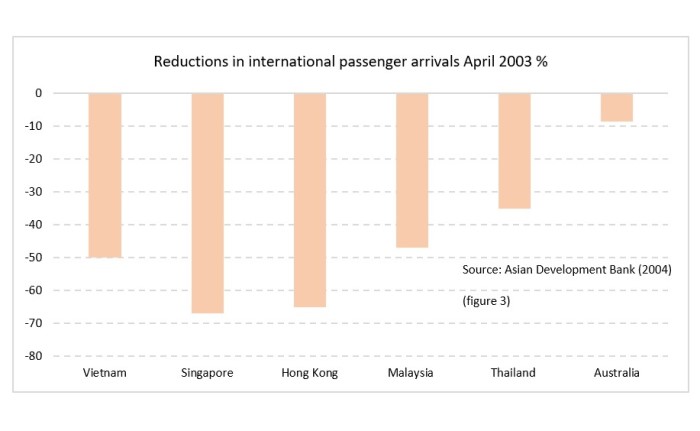 The above chart (figure 2) shows estimates from the Asian Development Bank giving us an indication of the economic impact that the SARS outbreak caused in 2003 and why this current outbreak should be watched closely. Based on this data it shows Hong Kong suffering the largest share of the economic impact although we would question the reliability of Chinese government data.

Figure 3 shows the reduction in international airline passenger numbers in the month of April 2003 to a group of Asian countries. A significant point to note is the sharp drop in passenger numbers to Hong Kong - this could be significant if the new virus does continue to spread. Hong Kong has already suffered massively reduced tourist numbers due to the protests that took place there throughout 2019 and recent economic data including Purchasing Managers' Index (PMI) numbers from Hong Kong have been weak, indeed it entered recession in the third quarter of 2019. The Hong Kong economy, already fragile, would be especially vulnerable to any fall in visitor numbers due to the outbreak of this virus.

To conclude, we remain vigilant but the importance of these events on markets remains unclear. Like many of these styles of events, although markets in the short term can react and indeed in many cases overreact, over the long term the effect they have has been insignificant. Markets this morning are reacting with the FTSE down and US futures also in negative territory following a fall of 2.7% in Hong Kong overnight, but what the long-term impact could be remains unclear, we will watch events closely.  
The value of an investment with Rowan Dartington may fall as well as rise. You may get back less than the amount invested.

The value of investments may fall as well as rise purely on account of exchange rate fluctuations.
Past performance is not indicative of future performance.

Source: FTSE International Limited ("FTSE") © FTSE 2019. "FTSE ®" is a trade mark of the London Stock Exchange Group companies and is used by FTSE International Limited under licence. All rights in the FTSE indices and/or FTSE ratings vest in FTSE and/or its licensors. Neither FTSE nor its licensors accept any liability for any errors or omissions in the FTSE indices and/or FTSE ratings or underlying data. No further distribution of FTSE Data is permitted without FTSE's express written consent.

The information contained does not constitute investment advice. It is not intended to state, indicate or imply that current or past results are indicative of future results or expectations. Full advice should be taken to evaluate the risks, consequences and suitability of any prospective investment. Opinions provided are subject to change in the future as they may be influenced by changes in regulation or market conditions. Where the opinions of third parties are offered, these may not necessarily reflect those of Rowan Dartington. 

Rowan Dartington is part of the St. James's Place Wealth Management Group. Rowan Dartington & Co Ltd. is a member firm of the London Stock Exchange and is authorised and regulated by the Financial Conduct Authority. Registered in England & Wales No. 2752304 at St. James's Place House, 1 Tetbury Road, Cirencester, Gloucestershire, GL7 1FP.