Oscar Wilde once said, "conversation about the weather is the last refuge of the unimaginative". While we won't be as critical towards our fellow compatriots as the acclaimed playwright, we certainly do seem to have a reputation for talking about the very changeable conditions of the British Isles. 
However, would Oscar Wilde standby his original statement today? Or would he decide to replace the weather with our innate obsession with property, their prices, and 'getting on the property ladder.'
Whether it's in mainstream media, on social influencing platforms or on TV, there seems to be a continuous flow of noise around the value of property in the UK.
Politicians are also guilty of obsessing about house prices. House prices and inflation are inextricably linked, so if inflation rises, so should the value of your house. As some might be aware, the government has an inflation target which is set at 2% per year. This might not sound like a lot but compounded over many years it can make a significant difference.
According to the Bank of England website, the reason inflation is good is because if it is too low, or negative, people may be put off spending because they expect prices to fall. Consequently, if everybody reduced their spending then companies could fail, which leads to job losses.
While this is partly correct, it can be assumed that the government wants people to feel richer. For those who own property, the easiest way to make them feel richer is to ensure that property prices increase. No government wants people to feel poorer throughout their term – it is a sure-fire way of not winning re-election. This is why inflation plays such an important part in the increase of property prices. As noted on the chart below, property prices have only narrowly outstripped the UK RPI measure of inflation over the last 16 years. The CPI, a more accurate measure of inflation, still shows that the majority of house price growth is down to inflation.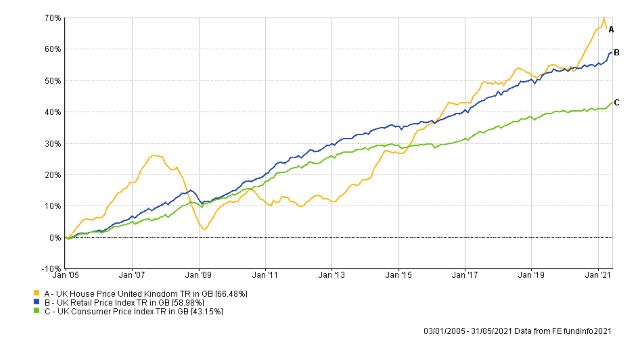 While we celebrate the value of our home going up, when you sell a property you often buy another in the same market, pay for care, or help your children to get on the property ladder. So, even with rising property prices it might not be as beneficial as first thought that your property has increased in value.
As for the younger generation trying to get on the property ladder, higher property prices are certainly not something to celebrate. Arguably, it is a double-edged sword, whereby those that have property get richer and those that don't get further left behind. It might be surprising to some, but according to Statista the UK has the second highest average price of city residential property in Europe, second only to Monaco.
The COVID pandemic certainly hasn't helped. According to ONS, the average UK house price was £256,000 in March 2021; this is £24,000 higher than in March 2020. While many of us have carried out home improvements over lockdown, it certainly isn't down to our DIY skills that we have seen this meteoric rise in property values. The largest factor for the rise in property prices is likely to be attributed to the Chancellor, Rishi Sunak, who introduced a stamp duty holiday due to the COVID pandemic. While well intentioned, it seemed to have the knock-on effect of increasing property prices.
There are concerns that if inflation continues rising, the Bank of England will have to raise interest rates to combat this. The current rate of inflation is 2.5% so above the annual target of 2%. However, until there is sufficient evidence of a sustained recovery, the base rate is likely to remain at 0.1%. Nevertheless, at some stage interest rates will need to go up which may have the knock-on effect on reducing property prices. The theory is that with higher interest rates consumers tend to save because returns from savings are higher. With less disposable income being spent, the economy slows, and inflation decreases.
Perhaps the real area of concern here is with interest rates remaining so low, and with rising inflation, the 'real' return on cash savings remains negative. This means that savers have very little alternatives but to invest in property or the stock market. Both areas have proven to be a successful hedge against inflation. Of course, if savers choose to invest in residential property as a buy-to-let landlord then this will only continue to fuel the property market. An alternative to this is to invest in property as part of a well-diversified portfolio. This may protect investors against inflation and against any fall in residential property.
In fact, it could be argued that historic logic no longer applies when using interest rates to combat inflation. Rising interest rates was the first line of defence against inflation. However, given the prolonged period of low interest rates, fewer and fewer people are saving cash and are instead choosing to invest in the stock market or property.
Inflation is currently running at 2.5% so your 'real' rate of return for savings accounts is -0.94% against a 1.66% savings rate. This means £10,000 invested today will only have the purchasing power of £9,906 after one year. Given that the highest savings rates lock you in commonly for a period of three to five years then, at the end of your term, while you might have more money, the purchasing power of your original £10,000 will be superior.
As interest rates have been on a steady decline since the 2008 financial crisis, a sudden rise to combat inflation might be too little too late and won't necessarily have the same effect as it did prior to the financial crisis. More and more people have deserted traditional cash savings and invested in the stock market, either through advice-led services, or through DIY investment platforms. Those that haven't have chosen property, which in turn has also fuelled property prices. Investing in the stock market doesn't slow the economy or inflation, if anything, it fuels it, and that should be the real worry. Even the younger generation don't use cash savings; they choose to use the stock market, or failing that, they choose more speculative investments like crypto currency. Who can blame them for taking higher degrees of risk? This type of investing might be risky, but if successful, then it might be the only way they are able to afford to buy a property.
The value of an investment may fall as well as rise. You may get back less than the amount invested.
An investment in equities and shares will not provide the security of capital associated with a deposit account with a bank or building society.
Past performance is not indicative of future performance.
The information contained does not constitute investment advice. It is not intended to state, indicate or imply that current or past results are indicative of future results or expectations.
Rowan Dartington, its associate companies and/or their clients, directors and employees may own or have a position in the securities mentioned herein and may add to or dispose of any such securities.
Full advice should be taken to evaluate the risks, consequences and suitability of any prospective investment. Opinions provided are subject to change in the future as they may be influenced by changes in regulation or market conditions. Where the opinions of third parties are offered, these may not necessarily reflect those of Rowan Dartington.
Rowan Dartington is part of the St. James's Place Wealth Management Group. Rowan Dartington & Co. Limited is a member firm of the London Stock Exchange and is authorised and regulated by the Financial Conduct Authority. Registered in England & Wales No. 02752304 at St. James's Place House, 1 Tetbury Road, Cirencester, Gloucestershire, GL7 1FP, United Kingdom.