There is something special about the United States when it comes to turning ideas into multibillion-dollar global companies. Many countries and governments around the world have looked on in envy over recent decades as the United States has produced some of the most far reaching and widespread companies of our time. These are companies such as Apple, Microsoft, Amazon, Google, Facebook, Netflix, Paypal, and more recently Airbnb and Uber. The United States continues to produce these amazing businesses to an extent not seen anywhere else in the world and many of these companies have created huge amounts of wealth for investors.
Why America?
America's ability to create these multibillion-dollar global companies has long been speculated on. Americans are perceived to have a greater appetite for risk, which is maybe part of the reason for the country's success.
This can be illustrated through the lens of some of its most famous venture capital firms. Although they exist around the globe, those found in the United States are a long way ahead. The amount of capital that firms such as Y combinator have available to invest in ideas is continually growing over time as they recycle cash from earlier successes. As the pot gets increasingly larger this means that even though only a small percentage of its investments succeed, more and more ideas are getting the capital that they need to go from an idea into a global business. The business model is essentially throwing lots of darts at the board in the hope of a small number of big wins, an appetite to risk that is very American. The below chart (figure 1) shows the amount of "darts thrown " in 2019 and 2020. In the next ten years there will undoubtedly be a number of big success stories from those investments if Y combinators previous success is replicated in the years ahead, with multibillion dollar companies, and valuable brands created.
Figure 1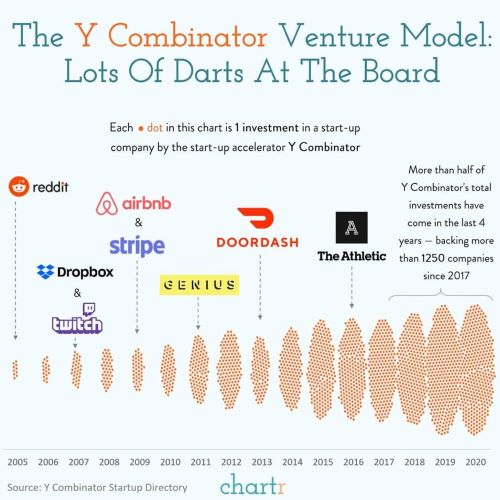 Source: Chartr May 2021
Don't forget China
The only other country in the world which comes close to matching the United States in building these giant technology businesses, albeit in its own or local market so far, is China. The Chinese success can be attributed to the lack of foreign competition in early stages, as its American counterparts are unable to access the Chinese markets.
When I visited China, I remember trying to use Google for an internal search. However, it instantly crashed and I was directed to Baidu (the Chinese equivalent). The same was true for Facebook (Renren) and WhatsApp (WeChat) which illustrates how incredibly difficult it is for US companies to establish themselves and thrive in China. Figure 2 below shows some examples of US companies failing to succeed in China.
Figure 2
Sorce: https://www.visualcapitalist.com/timeline-of-u-turns-from-china/
Would companies such as Baidu have succeeded if they were competing against Google? Possibly, but the fact they didn't have to has been beneficial. This environment acts almost as a safe incubator for Chinese companies, protecting them from foreign competition. This environment will continue to favour and allow China to produce some of its own tech giants in the decades ahead. It is after all a country with 1.4 billion people so even without global markets these companies can grow into giants. For context the sheer scale of China's population is shown below figure 3.
Figure 3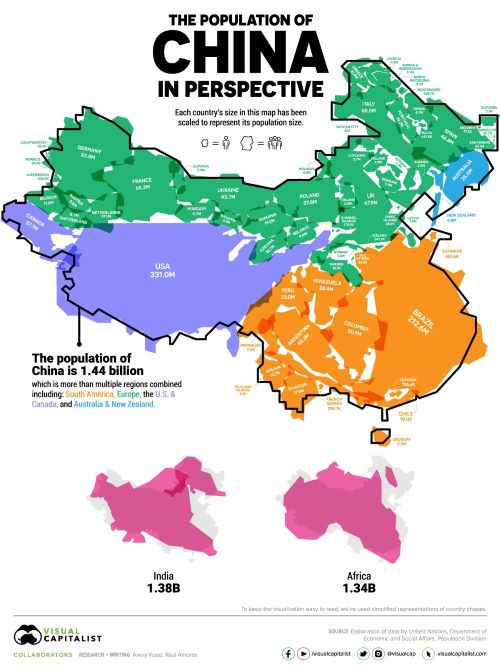 Sorce: https://www.visualcapitalist.com/the-population-of-china-compared-with-the-rest-of-the-world/
In conclusion, the United States seems to have the magic ingredient when it comes to financing ideas and turning them into huge global tech businesses, something which should continue as we move through the 21st century. However, in a safe environment behind its great fire wall, China has created a unique ecosystem to allow it to grow its own technology giants. We should expect the likes of Tencent, Alibaba and Baidu to be increasingly followed by future Chinese technology winners in both local and global markets. Figure 4 below shows the next roster of future tech companies currently privately held but many will one day be destined for public markets.
Figure 4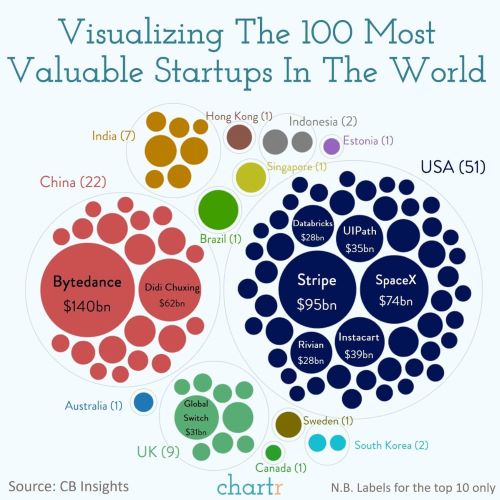 Source: Chartr May 2021
The chart demonstrates the dominance of the United States and China in producing these technology winners with 73 of the current 100 most valuable start-ups emanating from one of the two countries. The current established trend of the United States and China being the major producers of globally significant technology businesses looks set to continue long into the future.
The information contained does not constitute investment advice.
Full advice should be taken to evaluate the risks, consequences and suitability of any prospective investment. Opinions provided are subject to change in the future as they may be influenced by changes in regulation or market conditions. Where the opinions of third parties are offered, these may not necessarily reflect those of Rowan Dartington.
Rowan Dartington is part of the St. James's Place Wealth Management Group. Rowan Dartington & Co. Limited is a member firm of the London Stock Exchange and is authorised and regulated by the Financial Conduct Authority. Registered in England & Wales No. 02752304 at St. James's Place House, 1 Tetbury Road, Cirencester, Gloucestershire, GL7 1FP, United Kingdom.